Our Music Ministry
Karlene Barker, Program Director
First Presbyterian Church Choir
Anthems reflect a wide variety of musical styles and tastes from traditional to spirituals to contemporary. Many anthems include flute, trumpet, handbells, or percussion. The choir also leads in musical introits, prayer responses and benediction responses.
Rehearsals: Wednesdays 5:30 to 7:00 p.m.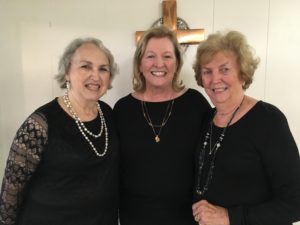 The Grace Notes
A women's trio who practice on their own time and sing contemporary Christian and secular music written for three part harmony.

Jubilant Ringers
Handbell ringers who play during select worship services. Our Jubilant Ringers are of all experience levels from beginner to skilled.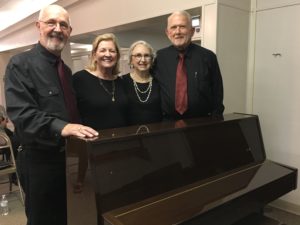 Sanctuary Quartet
Two married couples who love to sing and lead the communion service.
Back Row Boys
They got their name because all the men sat in the "back row" of the choir loft and began to get together in jam sessions at each other's homes. They sing a variety of inspirational music in four part harmony with stringed instrument accompaniment, and are now an integral part of the music at our church. All men singers and/or string instrument players are welcome.
Rehearsals: Thursdays 5:15 pm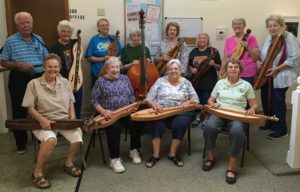 Dulcimers
Our Dulcimers group meets every Wednesday from 2-4pm. Beginners and players of all skill levels are welcome.